Many people ask what they can safely use as an alternative to diet chemical sweeteners. We use Sucanat in our home, and it's my sweetener of choice if you must add sugar to your foods. My best advice - don't use any sugars at all. Get accustomed to the natural sweetness of whole foods. Natural, unprocessed foods are biologically sweet, and once you train your taste buds to enjoy the natural sweetness of the various foods nature provides humans for nourishment - you'll find it's pleasurable to eat. Even celery has a natural sweetness. Nature is awesome when you take the time to recognize it.
What is Sucanat?
Sucanat stands for SUgar CAne NATural. It's an organic sweetener made from 100% certified organic sugar cane. It's minimally processed to remain a natural and very tasty sweetener. After the sugar cane is harvested, it is pressed to squeeze out the cane juice. The juice is clarified, filtered, and evaporated to remove excess water. The resulting syrup is then crystallized, and it is rich in a molasses flavor plus the vitamins, minerals, and trace elements found in the sugar cane plant remain as a source of nutrition.
Sucanat Nutritional Information
Sucanat ranks one of the highest in nutritional value compared to sugars derived from sugar cane. Sucanat also contains a smaller proportion of sucrose than white cane sugar.
How to use Sucanat
Sucanat can be used in hot or cold liquids, on cereals, and in baked recipes. It's a one-for-one replacement for refined white and brown sugars. In harmony with nature and the standards of organic agriculture, the sugar cane is "green cut", which means the fields are not burned. Instead, the leaves and tops of the cane plant are left in the field as a renewable nutrient source for the soil and as a natural form of weed control. Sucanat is never subjected to pesticides and has merely one ingredient listed on the packet - pure organic cane juice.
Sucanat Calories and Nutrition Facts
One (1) teaspoon of sucanat (4 grams) contains 15 calories, 0 grams fat, 0 mg sodium, 10 mg potassium, 6 mg calcium, 4 grams complex carbohydrates, and 0 grams protein. This beats the chlorine found in sucralose and the methanol used to make aspartame!!
Where to get Sucanat Online?
There are a variety of places to purchase Sucanat including your local healthfood store or organic market. However, prices online are cheaper than you will find in most retail places and I highly recommend iHerb.com, that's where I get all my vitamins!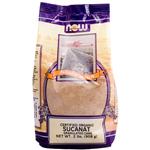 Posted July 2005 | Permanent Link
Visit Dr. Hull's Websites & Online Programs
Hair Mineral Analysis Testing

Discover hidden toxins in your body
Create a customized nutrition program
Restore your health

Dr. Hull's Online Detox Program

Video series online you can instantly watch
Download a Detox eBook and PDF program
Cleanse your body with vitamins
Restore your health

Cancer Prevention Diet Video Series

Online video series instantly watch
Download a PDF eBook program
Learn about effective, alternative cancer treatments
Learn about natural foods and vitamins help fight cancer
Maintain a natural and healthy lifestyle

Dr. Hull's Favorite Vitamins

Vitamin reviews and recommendations
Hand picked directly from Dr. Hull
Word-wide shipping and best prices

Private, Phone Consultations with Dr. Hull

Individual, private nutrition consultations
Discuss your health goals and specific questions
Perfect for vitamin and toxin consultations
Other Articles In This Category